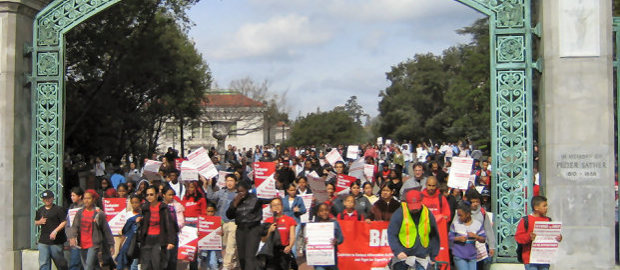 VICTORY!
Yiannopoulos and his alt-right thugs were dealt a humiliating defeat at UC Berkeley today.
The movement successfully defended the campus and each other in action. Berkeley stands strong today as a national model for what it means to be a sanctuary, and how to build the Resistance to defeat the alt-right, the fascists, and to force Trump to resign or be removed!
The movement prevented a Charlottessville catastrophe in Berkeley and defeated yet again another attempt by the Alt-right and Trump supporters to terrorize the Bay Area's Latino/a, black, LGBTQ, Muslim and immigrant communities.
Today's victory came on the same day as many NFL players protesting Donald Trump's racists attacks on black players opposing racist police murders. So today, the movement won two significant victories. It is clear the resistance against Trump continues to grow nationally.
Let's continue our march forward to make California a real sanctuary state for all immigrants, to defend DACA and build the movement to demand Trump resign or be removed By Any Means Necessary!
Join BAMN to organize, fight, and win! Our next Bay Area BAMN meeting will be Monday 9/25 at 7 pm in 174 Barrows Hall.