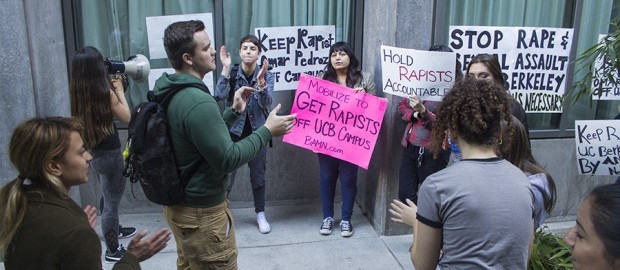 Victory for Rape Survivor and Women's Rights Leader Stephanie Nicole Garcia!
Rapist Omar Pedroza Found Guilty of Rape and Kept Off UC Berkeley Campus!
PRESS CONFERENCE Thursday, Nov. 19 at 4:15 pm
Sproul Hall Steps, UC Berkeley
LINKS: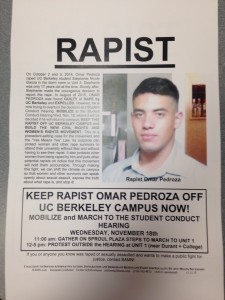 Due to the mobilization of supporters and students, Stephanie Nicole Garcia's brave and courageous public fight as well as the independent leadership provided by BAMN, the UC Berkeley administration felt the true power of our student-led movement and met our demand to stick by their original decision which was to once again find Pedroza guilty of rape and keep him off the UC Berkeley campus. Wednesday, the panel convened by the Center for Student Conduct reaffirmed the University's finding that Omar Pedroza was guilty of rape: specifically of violating student conduct provisions 102.07 University Housing, 102.08 Physical Abuse including but not limited to….sexual assault, 102.09 Sexual Assault, Racial, and Other Forms of Harassment.  With all parties arguing for Pedroza to be off campus: Garcia and the University arguing for Pedroza to be "dismissed" (expelled), and Pedroza himself even arguing that he should not be allowed on campus for the duration that Garcia is still a student at UC Berkeley, this rapist will not be allowed to be a student on UC Berkeley campus for the foreseeable future, if ever.
"This is a victory, not only for myself in my struggle, but for all survivors to win justice against rapists," said Stephanie Nicole Garcia, UC Berkeley sophomore and the complainant in today's hearing.
"We are making history. This is the first case of its kind where a survivor and leader is at the forefront of her campaign to publicly name the rapist, expose the truth, mobilize students, and organize mass militant action to hold the rapist accountable and keep him off campus by expulsion and all other means necessary," said Angela Dancev, BAMN organizer and UC Berkeley alum.
The Yes Means Yes Law which was won out of the struggle for women's rights over the last several decades has been honored due to our collective fight to make the legal definition of rape closer to the reality. We stop rape by naming the rapists publicly, holding independent investigations, exposing the truth, and mobilizing students to ensure that the rapists are removed. That ensures the safety of the survivors and stopping rape from continuing. This sends a clear message to the rapists that they will be held accountable and will ultimately stop rape.
"'By Any Means Necessary' means asserting the independent power of the students and oppressed. We have the true power and we materialized that power in this precedent-setting case," concluded Dancev.
CONTACT BAMN at [email protected] if you want us to name your rapist and build a public, collective fight for justice!