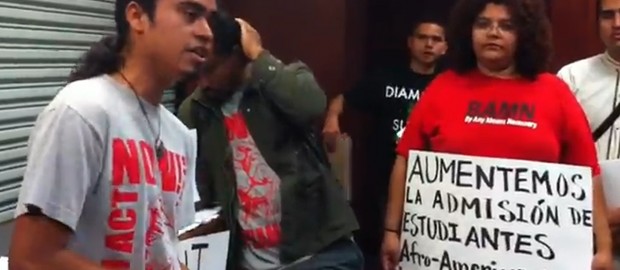 On Friday, June 1, 2012, several dozen students and civil rights activists joined a BAMN-organized occupation of the UCLA admissions office to demand:
Double Latina/o, black and other underrepresented minority student enrollment
Admit more Latina/o, black, and other underrepresented minority students including some of the students we are submitting (on appeal).
Reopen the Appeals process to allow the more than deserving Latina/o, black, Native American and other underrepresented minority who have been denied once or twice already the chance to be reconsidered.
Read and watch the speech of BAMN L.A. leader Jose Alvarenga below.
 Jose Alvarenga: UCLA Occupation Speech June 1st
Hello everyone, my name is Jose Alvarenga. I'm a student at Pasadena City College and an undocumented immigrant from Honduras. I am here today because I want an opportunity to be able to come to this school, because I want my brother to have an opportunity to come to one of these schools, because I want Jackie, Qui'chi, Miguel, Sabrina and the other students appealing to have an opportunity to come to one of these schools, because I want all Black, Latino/a and Native American Youth who aspire to get a first class education to have an equal opportunity to come to one of these universities. But, I know that as things are right now, the chances of getting here or other flagship campuses are limited and very low. I know that for far too long the racist and biased admission policies of these elite universities have been killing the dreams of entire communities, destroying the illusions of future community leaders. Inciting and demoralizing our youth!
Today is time to break the racist barriers that withhold the future progress of our communities towards a more equal society where Black, Latina/o, Native Americans and other underrepresented minorities stand on their rightful place. Like a spot at one of these universities! As we are standing here today, conscious of our power and our self-worth! It's time to open the doors of these schools and let the deserving leaders of our communities come through the front doors so that the full potential of intelligent, strong human beings be recognized and not through back doors as they hide their shame and cover their asses from the anger of our communities.
Today, we are intervening in history by asserting ourselves, by standing up for ourselves and our communities. Today we make clear that these universities do not only belong to white and or rich students, because these universities belong to us as well! Yes, these universities belong to those coming from poor communities suppressed by violence and police repression. It belongs to those whose parents come from other countries fleeing violence, starvation and repression. It belongs to those students coming from other countries fleeing the poverty and inequalities with illusions of a better life that includes a first class education. And we know that our communities and ourselves have worked too hard and overcame too many obstacles to get here so that they now tell us no and shut the door to our paths for a brighter future.
Now, we have gone through the legal process to reinstate Affirmative Action to increase the number of underrepresented minority students, because is clear that since Affirmative Action was banned, the numbers have remained low. That everything they've tried has not failed, and they continue to reject the only measure that has truly worked to integrate these campuses. It has also been clear to us that the state and administrators of the UC's are prepared to do nothing about increasing these numbers. So, then it is up to us to force them to do something about it, and if they won't hear us in the courts, then they'll hear us here at school!
Just like in the 60's our communities were able to make progress by taking direct action with marches, rallies, sit-ins or occupations and other forms of direct action. It will take no less for us to be able to open these doors. We need to rely only on ourselves to change the character of our society.  We need to be our own heroes and lead our communities to progress through our collective efforts! And what we are doing here today is a great place and way to start. Even though nobody else, or at least not that I know of, is making this fight, BAMN is, we are and we need to continue building our actions, building our movement of integrated youth fighting to win, fighting to "educate not segregate!"