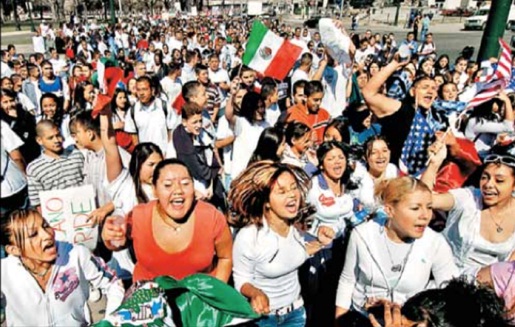 Tuesday, February 26, 2013
7:00-9:00PM
Room 136 Barrows Hall, UC-Berkeley
Keynote Speaker: Shanta Driver
BAMN National Chair, Immigration & Civil Rights Attorney
Replace partial probationary status with full citizenship rights for all people who live here, go to school here, work here, and otherwise contribute to this society. Latina/o, black, Asian, Arab, Native American, white, immigrants with and without paper — we are ALL Americans.
Open the borders — give people the same rights that NAFTA provides to the corporations for unrestricted passage across borders.
No restrictions to gaining citizenship should be placed on young people brought by their parents.
No fines for the millions of people without papers who are here now. No more deportations.
Clear, definite timelines should be set for people to gain citizenship — not indefinite probation.
Pass the Federal DREAM Act.
The current national debate on the "Bipartisan Framework for Comprehensive Immigration Reform," lauded by President Obama, provides the immigrant rights  movement with a new opportunity to rise up and take to the streets to assure that the new immigration law gives the equality and full citizenship that we deserve.
Make sure to read BAMN's Call to Action:    English    Español
Save the Dates!
April 1 (Cesar Chavez Holiday): MARCH IN OAKLAND, 12PM Rally International + 34th in Oakland, 1PM March to downtown!
April 10: BAMN CONTINGENT in NATIONAL IMMIGRANT RIGHTS MARCH IN WASHINGTON, D.C.