STATEMENT FROM THE BAMN PLAINTIFFS ON THE SUPREME COURT'S RULING IN SCHUETTE V COALITION TO DEFEND AFFIRMATIVE ACTION, INTEGRATION AND IMMIGRANT RIGHTS AND FIGHT FOR EQUALITY BY ANY MEANS NECESSARY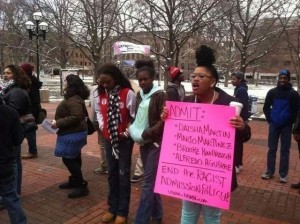 Shanta Driver, national chairperson of BAMN, the Coalition to Defend Affirmative Action, Integration and Immigrant Rights and Fight for Equality By Any Means Necessary, was also the attorney who argued for minority political rights at the Supreme Court in Schutte v BAMN.  Her comments on today's decision follow:
"Today's Supreme Court decision upholding the ban on affirmative action in Michigan is a racist decision. It is this Court's Plessy v Ferguson. The decision of the Court today makes clear that this Court intends to do nothing to defend the right to equality in politics, opportunity, rights, hopes and aspirations of its Latina/o, black, Native American and other minority citizens. At the very moment that America is becoming a majority minority nation this Court is declaring its intention to uphold white privilege and to create a new Jim Crow legal system.
This decision allows a white majority electorate, state legislature, state courts and other political and legal entities to pass laws that create inequality in political rights and most immediately, access to higher education. The new civil rights and immigrant rights movement is the only force that can restore progress in this society and stop the resegregation of higher education. It took the last civil rights movement to overthrow the old Jim Crow, and the young leaders of the new civil rights/immigrant rights movement will defeat the new Jim Crow.
The aim of state bans on affirmative action is to encourage public universities to discriminate against the right of Latina/o, black and Native American applicants to attend this nation's most prestigious public universities. Any university that claims to use a holistic admissions policy cannot turn a blind eye to the effects of institutional racism and inequality in K-12 education, and must consider the real-life experiences and obstacles that its minority applicants face. BAMN encourages any Latina/o, black and Native American student who applied to the University of Michigan, deserves to be at the University of Michigan, and was rejected, to contact BAMN and fight for your equal right to attend the university."