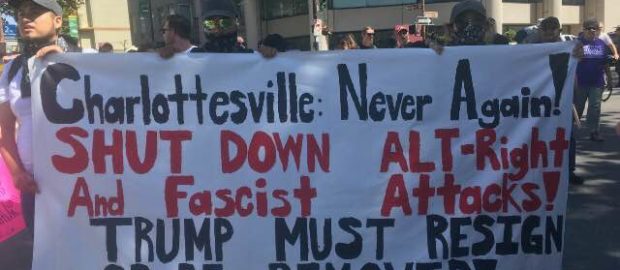 Alert: Mobilize to defend Muslim and immigrant students! Protest and shut down Joey Gibson, alt-right thug and founder of Portland-based Patriot Prayer Tues. 9/25. Gather at 12 pm on Sproul Plaza. Gibson announced his intention to gather more white supremacists on Sproul Plaza Tues. at 2 pm. Last time he came to Berkeley was on August 27 when he marched into MLK Civic Center Park with a group of people who were giving the Nazi salute. Gibson and the alt-right are still in tow
n, angry that Milo Yiannopoulos sped out of town humiliated and defeated. Gibson's brand of alt-right bigotry is especially laden with attacks on Muslims and Arab people, as well as immigrants. We won a major victory defeating Yiannopoulos' alt-right terror week and shutting him down yesterday. Let's defend that victory and protect Muslim and immigrant students and the community from him and his racist supporters. Defend Berkeley's sanctuary!
Wear for safety and security:


White T-shirt, plain black or blue hat, blue or black jeans, and bring a bandanna in case of tear gas. If you can't wear any of these, it's OK, come anyway. The more people there, the safer all of us will be.