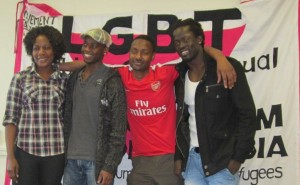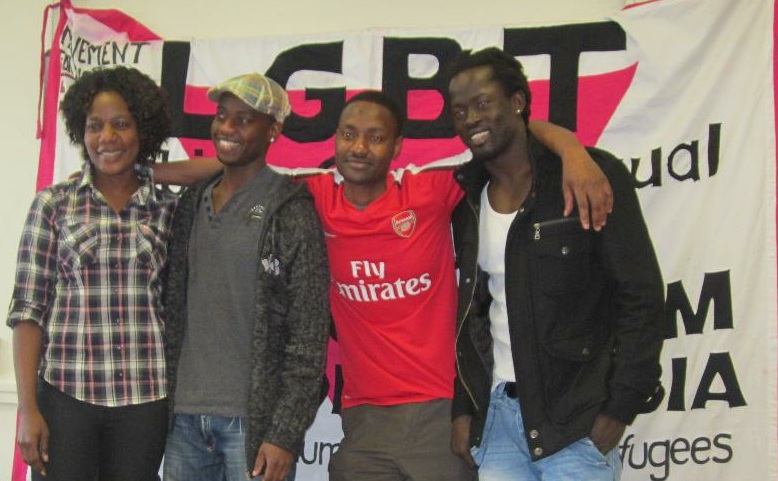 Many of you will have signed the petition calling for asylum for Tacko, Asuman, Andrew, and Proscovia -gay Ugandan and Senegalese asylum seekers and tireless leaders of the fight for equality and justice in Britain and around the world…
On June 1st Andrew was at last granted refugee status!
Andrew has been an outspoken advocate for all who are going through the demeaning immigration process. After twice being put through a full interview (in which an agent even sought to discredit his sexuality by going through his mobile phone and suggesting there were 'a lot' of female names) the Home Office withheld making any decision on his case for over a year. They kept his case in excruciating limbo, rather than grant the security of asylum – a security that not only strengthens Andrew to fight against racism and anti-immigrant scapegoating, but is a victory for all the people routing for Andrew to win – the Movement. It proves that if you fight, and you are part of building the movement you can win.
Pressure was kept up on the Home Office, through petitioning and publicising the joint petition – placing the demand on the British government to meaningfully deliver action on its pious words about how all countries should ensure the safety and protection of LGBT people and end the persecution.
We must now renew our efforts – starting with winning asylum for Tacko, Asuman and Proscovia – and build our movement to be strong enough to shape history in the interests of the oppressed.
 At May's national Black Students Conference Tacko was elected as joint-LGBT rep on the NUS Black Students Committee. The conference gave its support to fighting for Tacko and all students struggling with immigration status stay in Britain. It is our action now that can win.
The Black Students Campaign was also behind calling a national students demonstration in the autumn term against the education cuts and fee hikes. It will be the first NUS-backed national student march since the siege of Millbank Tower in 2010, when 52,000 marched and inspired the birth of the first real resistance to the ConDem govt policies. Making it a day when together we Shut Down London will be our best way to bring down the government, and establish a real independent voice for the poor and oppressed, give optimism to millions and change history to the side of the oppressed.
Watch the speech given by Shanta Driver (Chairperson of By Any Means Necessary) to the National Union of Students Black Students Conference…