UPDATE: UC-Berkeley committee found Omar Pedroza guilty of sexual assault and he is off UC-Berkeley campus! 
March to Student Conduct Hearing to Keep Rapist Omar Pedroza Off UC-Berkeley Campus
Stop Rape and Sexual Assault at UC Berkeley
Wednesday, November 18
11am: Gather on Sproul Plaza steps for march
12-5pm: Protest outside hearing at Unit 1 (near Durant + College)
LINKS: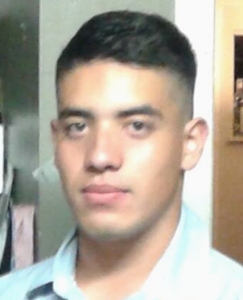 On October 2 and 3, 2014, Omar Pedroza raped a UC Berkeley student, Stephanie Garcia, in his dorm room in Unit 3. Shortly after, Stephanie made the courageous decision to report the rape, and the university's investigation agreed with her. In August 2015, the university expelled Omar Pedroza for violating the following provisions in the Student Code of Conduct: 102.08 Physical Abuse, 102.09 Sexual, Racial, and Other Forms of Harassment, and violating student housing policies: 10. Sexual offenses, including but not limited to rape and sexual assault, and 11. Physical abuse, assault, threats, intimidation, and/or coercion. This action by the university to expel the rapist signals a sea change on the part of the UCB administration's policy toward rape and sexual assault at this campus, which for decades had covered up for and sided with the rapists, and it is informed by the new "Yes Means Yes" law that passed in California last year. That law makes explicit that on college campuses, anyone that engages in sexual contact with another without their explicit consent at every stage is guilty of sexual assault. That means that consent to one form of sexual contact does not mean consent to another form of sexual contact, and that if at any point a woman does not consent, that is rape–a definition of rape that BAMN and other women's rights organizations have been advocating for decades. This law makes it possible for women to force universities to take disciplinary action against the rapists.
But now, with his sleazy attorney, Omar Pedroza has appealed the university's decision to expel him is and trying to get that decision reversed so that he can return as an enrolled UC Berkeley student. He has a Student Code of Conduct hearing on Nov. 18. We need to support Stephanie and other survivors by mobilizing to that hearing to stop Omar Pedroza from overturning the university's expulsion and keep him off UC campus. At the Nov. 5 Tribunal, Stephanie and other UCB student rape survivors shared their stories and we voted on a plan of action to keep Omar Pedroza from overturning his expulsion and build the movement to get more rapists off UCB and other college campuses.
This case is precedent setting. This is the first real test case on how the "Yes Means Yes" law can protect women, and a chance for the movement to weigh in on changing the popular understanding of rape, sexual harassment, stalking, and similar sexist attacks against women. Its outcome can strengthen the ability of survivors to be assured that they can attend their university without fear and without having to see their rapist. Through making this fight, we can shift the campus climate so that women will be able to speak openly about sexual assault, rape, and challenge previous notions of how those acts of violence against women are defined and dealt with. This is the case in which the very nature of the truth of what rape is and how it will be handled will be tested and challenged. Mobilizing in support of the survivor and maintaining the university's expulsion of the Omar Pedroza provides the movement with an opportunity and an important step toward stopping rape on college campuses.
Until now, college administrations, interested only in their own liability and protection from scandal, have covered up the rampant rapes and sexual assaults on their campuses, as documented in the movie, The Hunting Ground. They have counseled survivors into a false and deceptive policy of "confidentiality"–essentially silencing the survivor and protecting the rapist. They have been terrified that if just one student comes forward to make a public fight and wins, it would open the floodgates to the masses of survivors of sexual assault who would be inspired by the possibility of winning real justice through a collective movement. Over the last 20 years, BAMN has repeatedly led struggles on behalf of rape survivors where the administration has put itself on the side of the rapists. Finally, the California legislature adopted the "Yes Means Yes" law. Both in the adoption of the law and Berkeley's attempt to implement that law, they are finally accepting concepts that have been argued by BAMN and other women's rights organizations for decades. Building a public, collective, and independent movement will be crucial to winning real and permanent justice for rape survivors and to prevent future rapes and sexual assaults, and prevent this gain from being reversed. We need to organize public tribunals, rallies, and marches to defend the changes in the law and university policies against right-wing attack and administration vacillation.
It is certain that this new policy in defense of survivors of sexual assault and abuse will come under attack from a sexist right-wing opposition. This right-wing opposition is seeking to overturn these policies through appealing to reactionary judges and courts and the sexism that is still widespread in American society. In order to enforce a woman's right to consent to or refuse sex, BAMN is dedicated to building an independent movement that makes clear to the rapist themselves that they will be exposed and run off campus if they choose to rape. Our movement needs to take matters into our own hands.
The new student and youth led movements fighting racism, anti-immigrant bigotry and defend public education have given rise to a new women's rights movement on college campuses throughout the country. Women students, inspired by the actions taken to fight for justice in Ferguson, the Bay Area, and Baltimore, often through their own leadership role in these struggles, have begun to fight for justice for themselves and against the sexist harassment, assault, and rape that for far too long have plagued our campuses and our society. We have learned that if collective mass action demanding police be held accountable for racist murders can succeed at jailing killer cops, collective mass action to hold rapists and college administrations accountable can win justice for the rape survivors among us and stop further attacks on women students. We are beginning to break through the silence, shame, and victim blaming that every rape survivor must battle after her initial attack. We now need to go further and rally around women with the courage to name their rapists through independent, direct action campaigns to remove these rapists from our campus.
We do not have to accept the threat of rape and sexual abuse as a condition of being a woman and being a student on this campus. No one should have to accept sexist, racist, or any kind of abuse or bigotry in order to be a student at UCB. This campus belongs to us and it is our right to be here. We all have a right to be treated with dignity and respect and we have the right to stand up and fight and speak out to defend that right. The Nov. 5 Tribunal and future tribunals are designed to be forums in which students can speak out and testify to their experiences on campus, to hear from others who have had similar experiences, and most importantly to come up with a collective plan of action. The truth is powerful but we need power on our side for the truth to triumph. We can stop rape through organizing student power.
BAMN's public campaign representing UCBstudent Aarefah Mosavi in pursuing justice against Chester Brown can provide a model for how to win justice for rape survivors and prevent rapists from raping again. Chester Brown was a fellow student and co-worker at Aarefah's previous campus, Mount San Antonio College (Mt. SAC), Last Spring, Aarefah testified about the her rape at BAMN's public tribunal at UC Berkeley, for the first time publicly naming Chester Brown and telling the whole story of what he did to her. From the video of her testimony posted on YouTube, she immediately received an outpouring of support, and Mt. SAC students started organizing actions and confronting Chester Brown at his job. BAMN organizers then met with the students eager to make this fight at Mt. SAC, and organized several marches through campus and rallies at the tutoring center where Chester Brown works demanding his removal and the firing of the administrators who exonerated and conducted a cover-up of the rape. Because of the public stand Aarefah has taken, now other students who have been raped and sexually assaulted on campus here at UC Berkeley have been inspired to come forward.
We know that there will be more women at UCB and campuses all across the country who will be angry and inspired enough to overcome the fear and pressure to stay silent and decide to stand up and fight. If you or someone you know has been raped and wants to make a public fight for justice, contact BAMN. Building the collective mass movement and taking direct action, more women will want to come forward and wage a public fight. We can get more rapists expelled and stop the epidemic of rampant sexism and rape on college campuses.
CONTACT BAMN at [email protected] if you want us to name your rapist and build a public movement to win justice!