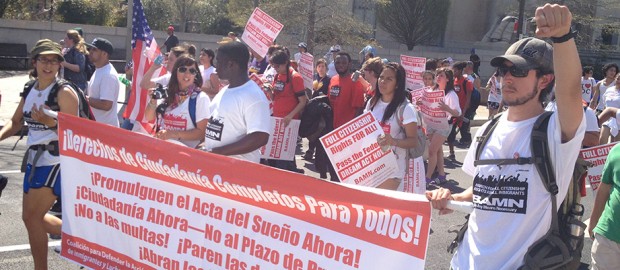 TELL JEAN QUAN:
OAKLAND IS NOT ARIZONA!
UN-CANCEL CINCO DE MAYO!
¡MARCHA!
SUNDAY, CINCO DE MAYO, MAY 5, 2013:
12PM: March from 98th Ave. + International (Oakland)
2PM:   Rally & Celebration at 34th Ave. + International (near Fruitvale BART)
Download the poster (DOWNLOAD for better quality):
ENGLISH    SPANISH
OUR DEMANDS:
Full citizenship rights for all people who live here, go to school here, work here, and otherwise contribute to this society. Latina/o, black, Asian, Arab, Native American, white, immigrants with and without papers—we are ALL Americans.
Open the borders—give people the same rights that NAFTA provides to the corporations for unrestricted passage across borders.
No more deportations.
Make all young people brought by their parents full citizens now.
No fines for the millions of people without papers who are here now.
Stop long probationary periods for people to gain citizenship. Create a quick and cheap pathway to citizenship for all undocumented people.
Pass the Federal DREAM Act Now!