All Out to the U.S. Supreme Court on October 15th!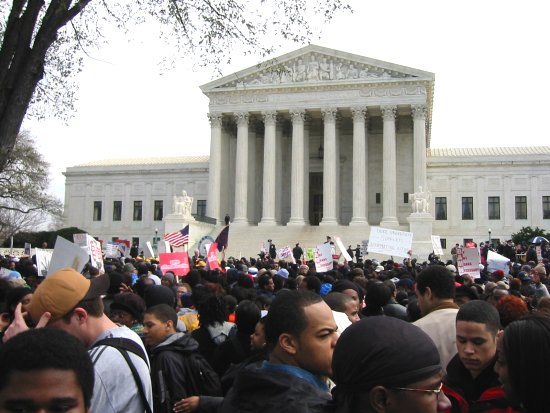 The United States Supreme Court has granted review of the Sixth Circuit's decision upholding the challenge by The Coalition to Defend Affirmative Action, Integration and Immigrant Rights and Fight for Equality by Any Means Necessary (BAMN) to Michigan's anti-affirmative action ballot proposal. Oral arguments will be heard on October 15, 2013 at 1pm.
Michigan Proposal 2, which bans the consideration of any form of affirmative action, including in admissions, was passed in a racially-polarized vote in November 2006. The day after the election, United for Equality and Affirmative Action Legal Defense Fund (UEAALDF) filed a lawsuit on behalf of BAMN, challenging the law's constitutionality under the Fourteenth Amendment. Briefs, fact sheets and background material about the case can all be found here.
We now have the chance to strike down Michigan's Proposal 2, California's Proposition 209 and similar bans in Arizona, Washington, Nebraska and Oklahoma that have excluded tens of thousands of qualified black, Latino and other minority students from universities across the country.
The ban on affirmative action assures that admissions are by privilege, not merit. They allow every group, except racial minorities, to win admissions programs for their young people. They are creating a new form of separate and unequal in a nation that will soon be majority minority.
The number of black graduates from Michigan's public medical schools dropped from between 44-68 per year in 2004-2011 to only 27 in 2012.
By 2012 the percentage of black graduates at the University of Michigan Law School was the lowest it had been since 1969, while doctoral and master's degrees had declined to levels not seen in twenty years.
It is time for us to stop cringing and start fighting.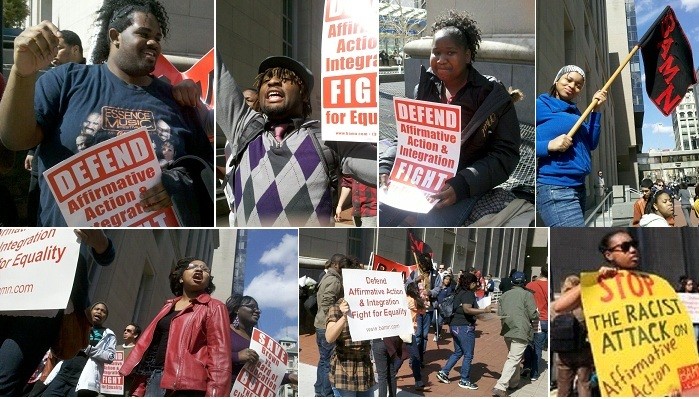 We can win our fight for equality if we use the coming weeks to build a national movement that can mobilize hundreds of thousands of people to the Supreme Court on the day our case is heard.
You Can Help Bring Thousands to DC on October 15th
You can support the movement to re-establish affirmative action – the desegregation program for higher education – in three ways:
1) MAKE A GENEROUS DONATION TODAY: We need funds for outreach, publicity, education and legal costs, and then we will need funds to make transportation available to tens of thousands of young people who wish to demonstrate their support for affirmative action on October 15th. Buses from the Mid-West to DC cost $4,000.00 each. Donations can be made through this website by clicking here.  All donations are TAX EXEMPT (UEAALDF tax exempt I.D. is 38-3626850)
2) SPREAD THE WORD: Forward this letter widely – if you are a member of an alumni association, professional organization, church, sorority or fraternity or any other organization, get them involved. Circulate this letter to all members of your organization and make personal appeals to ask others to make donations and get involved.
3) HELP SET UP SPEAKING ENGAGEMENTS: Our attorneys and organizers are available to give informative and inspirational speeches before audiences of all kinds. IF YOU HAVE CONNECTIONS TO A UNIVERSITY CAMPUS OR A PROFESSIONAL ORGANIZATION, ASK THEM TO ORGANIZE A FORUM ON THIS CASE IN EARLY FALL OF 2013. Once fall semester begins, we won't have much time, so we need to begin organizing speaking engagements NOW.
You can play a key role in this historic case, which is our generation's Brown v. Board of Education. THE STAKES ARE HIGH. If we win, anti-affirmative action laws all across the country will be overturned. If we lose, there will be more such laws.
Stand up and step forward. It's time to make progress on civil rights.
P.S. Don't Delay – donate today! Send a tax exempt donation by check to UEAALDF, P.O. Box 7205, Detroit, MI 48207 or donate online by clicking here.
Briefs and informational pamphlets for the case may be found

here.