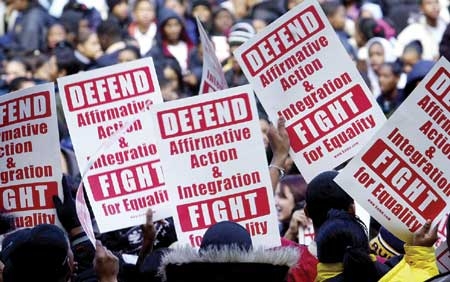 Press Release 11/15/2012:
BAMN HAILS SIXTH CIRCUIT DECISION STRIKING DOWN MICHIGAN'S BAN ON AFFIRMATIVE ACTION
CASE HEADED TO U.S. SUPREME COURT:
BAMN to argue for overturn of California's Prop 209, Michigan's Prop 2, and similar anti-affirmative-action state ballot initiatives before High Court
The entire en banc panel of the United States Court of Appeals for the Sixth Circuit ruled today by a vote of eight to seven that Michigan Proposal 2's ban on affirmative action in college admissions violated the Fourteenth Amendment to the Constitution of the United States.
Shanta Driver, the National Chair of BAMN and one of the attorneys representing the plaintiffs in the case, said "We have today won another great victory for black, Latina/o and Native American students and for civil rights. The movement of young black, Latina/o and anti-racist white students that filled the courtrooms and organized the campuses made this victory possible. We will now defend this victory in the Supreme Court and we will make it real by winning back affirmative action at Michigan and at the state's other leading public universities."
George Washington, the BAMN attorney who argued the case for the plaintiffs in the Sixth Circuit, said "The Big Lie told by the supporters of Proposal 2 is that grades and test scores are a neutral means for judging merit.  But that system is openly biased against black, Latino and Native American applicants.  Affirmative action ended the de facto segregation at major universities and it is even more essential today as we become a majority minority country.
Washington said the decision has enormous importance for the entire country. Five other states have adopted similar laws, including California.  He said the Supreme Court is now virtually certain to grant review.
Driver said "We can now at long last strike down Proposal 2, California's Proposition 209 and all the laws that are preventing highly-qualified black and Latina/o students from attending the most selective colleges and universities in the country."
<>
MEDIA COVERAGE:
"Court strikes down Michigan's ban on race-conscious college admissions" – Chronicle of Higher Education
"US appeals court strikes down Michigan's 2006 ban on affirmative action in college admissions" – Washington Post