The power of the April 25th student walkouts from Southwestern and Western High Schools have FORCED DPS Emergency Manager Roy Roberts to back off on the closing of Maybury, an elementary school in Southwest Detroit that has a unique and essential bilingual educational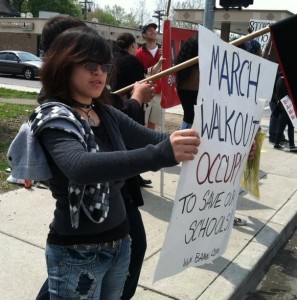 program.
Despite Roberts' past assertions that the DPS school closings were "non-negotiable," he suddenly "realized" that closing Maybury would cause overcrowding at Earhart Elementary/Middle School. This "revelation" came on the heels of the largest, united student walkout in years by Western and Southwestern students, and the announcement that the students were not deterred by the 5-day suspensions they received. On the contrary – they are planning expanded walkouts to save Southwestern and all the other schools slated to be closed.
This is a victory. This is proof that actions led by Detroit's Latina/o, black, immigrant and undocumented youth are our only hope to make our city what it should be. This is proof that the best way that the youth can assert their power is through DIRECT MASS ACTION!
We must keep fighting and expand our fight. The schools closures will not end this year. We are in it for the long haul. Until Latina/o, black, immigrant, and undocumented student in Detroit are GUARANTEED A QUALITY PUBLIC EDUCATION, we must keep fighting.