BAMN Press Release 3/27/2012:
Oakland community outraged by Superintendent Smith's plan to lease Santa Fe Elementary to Emeryville Schools and hand Lazear Elementary to charter-school companies
"Keep all Oakland public schools open! Our children are not for sale!"
PRESS CONFERENCE TODAY
Tuesday, March 27, 4:15pm
OUSD Administration Building, 1025 2nd Ave. (Oakland)
DEMONSTRATION AT SCHOOL BOARD MEETING
Wednesday, March 28, 4:30pm
OUSD Administration Building, 1025 2nd Ave. (Oakland) –   More info on the fight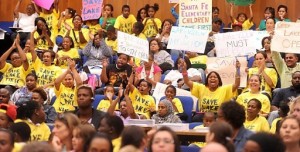 Oakland parents and students are outraged that the school board plans to vote Wednesday to lease Santa Fe Elementary School to Emeryville's school district and hand Lazear Elementary School to private charter-school companies. Angry parents from the closing schools and supporters will hold a press conference Tuesday and pack the school board meeting Wednesday to stop this plan.
Although last week the Superintendent's spokesman Troy Christmas told Katy Murphy of the Oakland Tribune that there would be NO decisions made on the five schools the board voted to close at this upcoming meeting, the Board has bypassed its committee process and in a backroom deal with charter operators and corporate interests placed these action items on Wednesday's agenda: New Business Item 12-0805 would lease Santa Fe Elementary to Emery Unified School District for three years, and New Business Items 12-0820 and 12-0821 offer Lazear Elementary to Bay Area Technology Charter School and Creative Education Charter School respectively.
"Our children are not for sale," said Clifton Harrison, parent and grandparent of students who attend Lakeview Elementary which is slated for closure. "They are trying to sneak this plan through because there is no conceivable reason for it and it has absolutely no support in the community. Hundreds of us have spent months going to board meetings and petitioning to keep our schools public and for Oakland, and this is a slap in the face. These school closings are always being targeted at the black and Latino communities."
"If our school is leased to Emeryville, then the children will not have an elementary school in their entire zip code. They are treating Oakland like second-class citizens," said Tania Kappner, Oakland teacher and BAMN organizer.
"The entire claim that they needed to close our 5 elementary schools because of money was a lie," said Mark Airgood, Oakland teacher and BAMN organizer. "Superintendent Smith and any Board member who votes for this plan is selling out the young people of Oakland and their families. Their plan is to gentrify Oakland by shutting down and privatizing our public schools. Oakland has fought long and hard for for the right to public education and we will not allow a new Jim Crow to be imposed on the black and Latino communities of this city. We won't go to the back of the bus!"
<>