On April 25, at 10:55am, the brave students of Southwestern High School, ignoring the opposition and threats from their principle, teachers and parents, burst through the doors of the school, walked out and marched through southwest Detroit to neighboring Western High School to keep their school open. They were joined by almost 200 students from Western who walked out in solidarity with Southwestern. These students have done the one thing everybody knew needed to done to stop the school closings and the destruction of our city, but were too afraid to do. Through their action they have shown the way to students throughout the city who are looking for a way to fight to save their schools.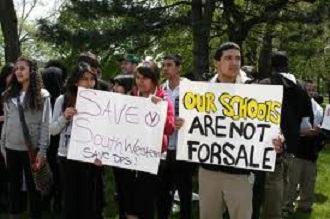 The principle of Southwestern claimed that if students walked out every single one of them would be expelled and arrested. But that is not what happened.
When students in Southwestern walked out they were not arrested or expelled, because by taking action they were not only speaking for themselves and their school, but for students all across Detroit.
They had the backing and support of thousands of young people, and the principle, the police and Roy Roberts were not prepared to take that on.
The courageous action of Southwestern and Western High School students cannot be a one-time event if we are to win, and the fight cannot rely solely on those two schools.
Their walkout has put the challenge to the rest of Detroit Public School students. It is up to those of us in the other schools to take up this challenge to become our generation's voice of freedom and stand up for our city! Join BAMN and join the organization of young people fighting together to win justice for ourselves, our friends and all of Detroit!
Organize in your high school, middle school, your friends' schools, your old middle and elementary schools! Nobody is too young, too far to help! This is a call for all of Detroit, and if you know that means YOU, then your job is to get all of your friends, and your friend's friends on this too. We must be bigger and include the whole city if we are to win!
Expand to Phoenix, Priest, Harms, Holms, Kettering, Southeaster, Northwestern, Detroit City High, Finney, Cody, Crockett, and all schools on the closing list, the schools meant to receive the students from the closed schools and everyone else, because you know damn well if it isn't your school on the list this year, if we don't stop this, it damn well will be on the list next year! Together we can win this!
Contact us if you want to help and want to come to our NIGHTLY meetings from now until we win!!! We provide rides!!!