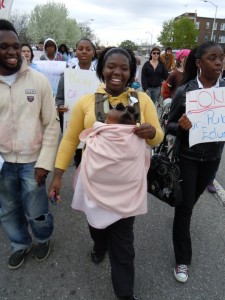 Detroit Students, Fight Back!
Defend Your Right to a Quality Education! Unite in Action with The Catherine Ferguson Academy School for Young Women (CFA)!
We can save all of our schools and programs by uniting in action and winning the next defense of CFA.  Defending CFA means coming to CFA when called and rallying outside of the school as long as it takes, until our demands are met.
On April 15, 2011, the brave students of Catherine Ferguson Academy School led Detroit and shook up the nation by sitting down and refusing to leave the school over spring break.   Next time, if hundreds, not just dozens of people are gathered outside supporting the defenders of the school, we will win. Just like the auto workers forced the powerful auto companies to recognize their union in the 1930's through sit-down strikes, and black college students in the South broke the back of segregation by sitting down at lunch counters, we must recognize, just as Dr. Martin Luther King did, that if young people act on "the fierce urgency of now," we can move mountains.
On May 19th, the students of BAMN and CFA held a press conference and issued demands for CFA and other Detroit Public Schools- that the DPS or any other entity that is planning to run CFA, maintain all the programs and services that make CFA the nationally-renown, successful school it is.  If there is any attempt to close, "down-size" or dismantle CFA, we will organize a massive mobilization and occupation of CFA to keep it open.  The CFA demands include all of our demands.  Read them and if you have more, bring them to the action.  But above all, we must organize in the schools if we are to win.  Students will not mobilize spontaneously.
The CFA Occupiers' Demands are the following:
Defend Public Education
Keep Catherine Ferguson Open
No School Closings
Keep All Detroit Public Schools Public – No More Charters or Privatization
Reinstate all programs and services that have been eliminated, including art & music as  well as  counselors & social workers
Student Control of Curriculum and School Character to assure that every Detroit school provides equal, quality education for all
No discipline or retaliation against any of the participants in the occupation or any other collective actions taken to defend public education
At this point, we are winning at CFA. Our occupation has already resulted in keeping some schools open. If more students and youth in Detroit stand up and fight, we will win much more. Now is the time to stop listening to the naysayers in our life–the three Ps–parents, principals and preachers, who all too often speak out of fear and not strength.  Join the movement and fight for your dignity, equality and hope for your future.
The plan the enemies of public education have for Detroit is irrational.  They are fully aware their statistics are wrong and fabricated and that this plan will make the district lose money.  For example, they say CFA costs the District $2.7 million** when it really only costs $750,000 and the rest comes from federal funding. The racist, white billionaires who do not want to pay for public education, believe that the people of Detroit do not have value and want to fulfill that prophecy through force.  
This is about implementing the New Jim Crow and forcing people to defer their dreams through imposing a "badge of inferiority" on black and Latina/o students and blocking any opportunity for them to lead and shine.   It is their intention to destroy public education, and get away with it with only formal objections from the community, without any serious consequences, without Detroiters organizing and raising total HELL to stop the destruction of our schools and our neighborhoods.Roberts and their tiny minority of billionaire backers and politicians ARE NOT OUR FRIENDS.
They are not even potential friends, who we can warm up to, to get favors from.  They are closing schools and firing teachers to drive students out of the district and gentrify the city by race and class. Middle-class students will go to private schools or leave the city, and poor students will be warehoused in inferior, overcrowded schools.   Whether or not our schools stay open or teachers keep their jobs depends on whether we can overcome our fears and express our anger in a collective manner, and put our foot down and declare that Detroit students, our schools, our programs, our neighborhoods and our city are not for sale.
We are constantly harassed and brutalized by the police, and in the case of immigrant students, by the border patrol. Detroit students can bring all of this degradation to a halt. Our movement can declare that we refuse to be subjected to educational 'experiments' at the whims of rich people because they want to profit off of us through cheap education schemes.
We can end the regime of overcrowded classrooms, police in the schools doling out repression and brutality, and turning what should be places of learning, where we can express and develop our full creativity and humanity, into cheap, stripped-down, prison-like holding cells. We want and deserve the full range of subjects and extracurriculars – art, music, dance, theatre, sports, AP and foreign language courses, chess, etc. – that a first-class comprehensive public education has to offer.
To the extent that any school becomes a charter, if they do not meet the full standards of the students and parents, they must lose their charter immediately!We CAN defeat this plan, but only by getting off our knees and fighting back. It's time to heed the words of Frederick Douglass, one of the greatest leaders in the history of our nation, who said, "Power concedes nothing without a demand. It never did and it never will.
Find out just what any people will quietly submit to and you have found out the exact measure of injustice and wrong which will be imposed upon them, and these will continue till they are resisted with either words or blows, or both. The limits of tyrants are prescribed by the endurance of those whom they oppress."*Catherine Ferguson Academy (CFA) is a Detroit Public School (2750 Selden Street, two blocks North of MLK/Mack and one block east of I-96).
CFA students are standing on their feet fighting to defend public education, fighting to  stop the destruction of programs in our schools through class size increases and elimination of our teachers, and against the closing of all of the public schools on the closing list.  CFA is on the list to be closed. It is a school for pregnant and parenting teenage girls.
At CFA, teen mothers, our sisters, cousins and friends, are not treated as outcasts, but are cared for and treated as fellow persons with value. CFA is a regular comprehensive high school, where the students can bring their children.  There is early childhood development and pre-school classes, and a nursery.  There are doctors, nurses and others who come to the school to provide services for the students and the children to make sure that they are both successful.
There is also a wonderful farm with goats, ducks, chickens, vegetables and even a horse. CFA is a JEWELL of DETROIT and it is our school- we must defend it and defend ourselves. **The Detroit News, 05/27/2011  DONATIONS NEEDED to pay the Catherine Ferguson mothers' fines and to sustain the movement to save Catherine Ferguson Academy and Detroit's public schools!
Donate to the Catherine Ferguson High School
Important Update 4/26/11: The students and their teacher returned to school this morning for the first time since the occupation. Thanks to the national support that they had galvanized, including national coverage on the Rachel Maddow Show, the movement succeeded at preventing any district disciplinary action against them! Donations, however, are still needed to pay their legal fines and build the movement.
VOICES FROM THE OCCUPATION
Ferguson student and occupier, 17-year-old Ashley Matthews describes her arrest and vows to continue fighting. 
Catherine Ferguson teacher and BAMN activist, Nicole Conaway, was arrested during the sit-in. Read her account of the occupation at her blog "Defend Public Education"
Young Mother Describes Occupation of Catherine Ferguson Academy13 arrested in heroic action, but vow that fight continues
Diane Bukowski, VoiceOfDetroit.net http://markmaynard.com/?p=13284
Andrew Bradley posted a YouTube playlist of the sit-in
Rick Smith radio interview with Ferguson teacher Nicole Conaway and student Tiffani
News + Blog Coverage of the Catherine Ferguson Academy School Occupation
News coverage of the occupation
The Rachel Maddow Show features the Catherine Ferguson Academy:
Local news coverage of occupation:
CFA students, teacher arrested By Marcus Wright – The Michigan Citizen
Students occupy Detroit school Catherine Ferguson Academy students protest pending privatizion of school By ROBERT GUTTERSOHN | The South End
Students, faculty take over Detroit school in protest April 15, 2011By W. Kim Heron | metrotimesblogs (Posted by Heron, written by Simone Landon)
Sit-In At Ferguson Leads To Arrests April 15, 2011 9:58 PM CBS Detroit (WWJ)
Today Detroit – Tomorrow, Every City in America April 26, 2011Rania Khalek, CommonDreams.org
---
April 15, 2011:
Student Occupiers at Catherine Ferguson Academy Need Your Assistance! See list of needs below announcement.
OCCUPATION AT CATHERINE FERGUSON HIGH SCHOOL!STUDENTS AND SUPPORTERS SIT-IN TO DEMAND THAT NO DETROIT PUBLIC SCHOOL CLOSES
Following in the civil rights tradition of Dr. Martin Luther King and Rosa Parks, Catherine Ferguson students — along with their babies and toddlers, teachers and supporters — have begun a peaceful occupation of Catherine Ferguson Academy (CFA). CFA, located at 2750 Selden, is a Detroit Public school that is slated to be closed in June. The students who are sitting down have five demands:
No School Closings
Keep All Detroit Schools Public – No More Charters or Privatization
Reinstate all programs and services that have been eliminated, including art & music as well as counselors & social workers
Student Control of Curriculum and School Character to assure that every Detroit school provides equal, quality education for all
No retaliation against any of the participants in the occupation
Catherine Ferguson Academy (CFA) is a Detroit public high school for pregnant and parenting teen girls- the only one of its kind in the nation. Providing an excellent education and services for both the teen mothers and their children, CFA has received international attention, numerous awards and is the subject of several documentaries."When people at my regular high school realized that I was pregnant, I was told my chances of being a success in life were over.
At Catherine Ferguson, they told me they wouldn't allow me to be anything BUT a success. I love CFA, and I am prepared to fight to keep it open, not only for myself, but for all the girls who will come behind me," said Ashley Matthews, a junior at CFA.With approximately 200 students who come not only from Detroit, but also from the surrounding suburbs, every year Catherine Ferguson achieves a 90% graduation rate and 100% of those who graduate are accepted to two- or four-year colleges, most with financial aid.
"If this school closes, or if any of our services are eliminated, I believe that over half of CFA students will drop out of high school because they don't have anyone to watch their baby while they attend classes," said Dalana Gray, who is a senior at CFA. Also, this school benefits our children, because the early education program teaches them a lot that they wouldn't learn if they were kept at home."
The school provides pre-natal and parenting classes, and offers high school student mothers the opportunity to finish their high school education immediately after giving birth by providing on-site daycare, early childhood development services, and pre-school for their children, as well as on-site medical, dental and social services, so the young women don't have to miss school to attend appointments.
What also makes CFA unique is its organic garden and farm with chickens, goats and a horse, which the students maintain as part of their science education.Nicole Conaway, a science teacher at CFA who decided to join her students in the occupation said, "As a teacher, I can find another job, but for my students, if Catherine Ferguson closes, there are no alternatives. The same can be said for many of the students at other schools on the closing list – the Day School for the Deaf; Rutherford, which is the home of two autistic programs; Moses Fields, which educates many learning disabled children, and several neighborhood schools that are the anchors for their communities. It's time to say: no more."
"The massive school closures that have been carried out in DPS since 2004 have led to the depopulation of Detroit and to the deepening financial crisis of the district. Public schools are being closed to make way for charters and are part of the national attack on public education. Today Detroit – tomorrow, every city in America. The parents and students of Catherine Ferguson are fighting to maintain the right of every student in our nation to a free, quality public education.
Every supporter of public education should do everything possible to support their fight and make sure they succeed", said Shanta Driver, National Chairperson of By Any Means Necessary (BAMN), which is helping to organize and coor,dinate the occupations.For more information, call Monica Smith at 313-585-3637 or call 855-ASK-BAMN
Come down to the school at 2750 Selden, Detroit, MI and join the picket outside. Outside support is essential to show that the community backs this action and to protect the sit-down from police. To find the school, take I-96 to the Martin Luther King Jr. exit, go east one block and then north 2 blocks (very close to U of D Dental School).
If you can't make it to CFA, occupy any one of the many schools or libraries that are threatened with closure in your area!
Make a financial donation TODAY. Checks can be made out to BAMN and either brought to the school or mailed to P.O. Box 24834, Detroit, MI 48224.  On-line donations can be made securely at: http://www.bamn.com/donate
Items needed by the occupiers:
Prepared food and drinks (for example: sandwiches, pan of mac & cheese, pizz, pot of spaghetti, fried chicken, bagels & cream cheese, tamales, tacos/burritos, coffee, hot chocolate, etc.)
Groceries that do not require cooking: cereal, snacks, juice
Water
Paper goods (plates, napkins, bowls, plastic ware, paper towels, toilet paper)
Diapers for small babies (three months) and large two year olds; also some pull ups
Baby Wipes
Baby Formula
Sleeping bags
Air mattresses
Air mattress pumps
Coolers w/ ice
Toiletries
Cleaning supplies
Back-up generator (in case the authorities cut the power)
Flash lights
Stay updated on BAMN's work on Public Education: