Defend the Heroes of the Movement for Public Education:
Chancellor Birgeneau and Alameda County DA: Drop All Charges Against Occupy Cal Protesters!
RALLY AT COURTHOUSE
Monday, December 12th
Gather 8:30AM outside, 9AM fill the court (Dept. 107)
Wiley Manuel Courthouse (661 Washington at 7th St.),
near 12th St./Downtown Oakland BART
Sign the petition at BAMN.com to demand that the District Attorney drop the charges against Occupy Cal protesters. They are heroes, not criminals!
Call (510) 642-7464 and email Chancellor Birgeneau: tell him not to charge Occupy Cal protesters
Call (510) 268-7500 and ask for DA Nancy O'Malley's office: tell her not to file charges against Occupy Cal protesters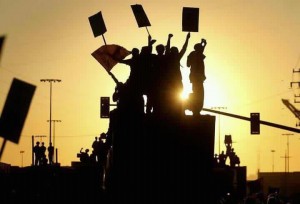 Join the Occupy Oakland West Coast Port Shutdown
December 12, 2011
5:30AM West Oakland BART, march to Port
3:00PM Rally at 14th and Broadway, Oscar Grant Plaza
4:00PM March to Port from Oscar Grant Plaza
5:00PM West Oakland BART, March to Port
Every person who values the achievements of the Occupy Movement and values free speech should come out in support of Occupy Cal protestors who were arrested on November 9th – they will be arraigned at the Wiley Manuel Courthouse on Monday December 12, 2011.  The leaders of our movement, the students and community who took action by linking arms and protecting our right to protest, are still facing criminal charges.  We can ensure that the bogus charges are dropped if we mobilize to this arraignment. It is essential that our movement defend our leaders.
On November 9, 2011 thousands of students at UC Berkeley held a walk-out and student strike to defend public education, protest fee hikes and budget cuts, defend workers' rights, and for increasing black, Latina/o, and Native American enrollment at UC Berkeley and other flagship campuses and in solidarity with the national Occupy Wall Street movement. Entire university departments cancelled classes, dozens of professors and graduate student instructors held teach-outs in solidarity, and thousand of students and supporters rallied, marched, and voted at a mass General Assembly meeting to set up protest tents for Occupy Cal.
Police brutality
By mid afternoon, as student and community protestors began setting up the Occupy Cal encampment, police viciously attacked the students and tried to confiscate the tents. They arrested protesters and brutalized countless more. Protesters were beaten so badly that some were admitted to local hospitals. Women were grabbed by their hair and thrown to the ground by police, and some sexually manhandled. Some male protesters were beaten by multiple police officers at the same time. Other protesters were racially profiled and segregated into separate cells and given harsher charges. Through all of it, protesters remained unified and held their ground, committed to the fight for the 99% and the right to public education for all.
Video footage of the police brutality and the protesters' brave stand were posted on the internet and instantly went viral, increasing the size and militancy of the movement. By around 9pm, three thousand people were protesting on Sproul Plaza at UC Berkeley to defend the Occupy Cal movement even as police again attacked protesters, arresting dozens more and assaulting protesters even more brutally.
The determination of the students and protesters to hold their ground, even at risk of getting arrested, resulted in a significant breakthrough for the entire Occupy movement and the fight for public education. The following week 10,000 people joined a campus-wide strike, and the Occupy movement spread to UCLA, UC Davis, and other campuses.
What We Have Achieved
The most important development of the Occupy Cal movement so far is the understanding and assertion of our political interest and power independent from the administration. Because of that, we have begun to shift the balance of power. The UC Regents cancelled their public meeting in November for fear of the power of the movement. UC Berkeley Chancellor Robert Birgeneau granted students who were arrested as part of the Occupy Cal protest amnesty from Student Code of Conduct charges, and also issued a public apology for his part in the brutalization and suppression of the rights of students and protesters. Students have now been able to set up camps at night for Occupy protests, establishing that it's the movement that will determine the character and actions on our own campus. We need to continue to build on this independent basis in order to win our demands.
Build the Movement: Drop the Charges!
The students and protesters at UC Berkeley are a national model of action for anyone who wants to defend the right to a public education. In order to strengthen and embolden more students to follow their example, we need to demand that Chancellor Birgeneau and the Alameda County District Attorney drop all charges against all student and community Occupy Cal protesters.