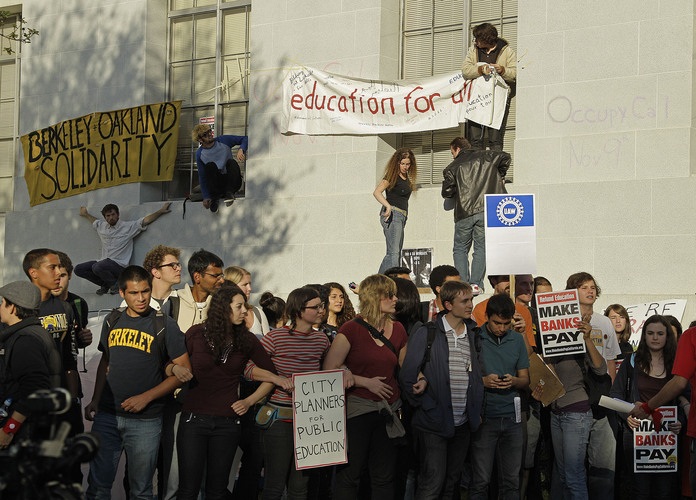 At the UC-Berkeley General Assembly meeting of 11/12/11, the following demands were voted on and passed as the demands of the University-wide strike that has been called for Tuesday, November 15, 2011:
Local Demands
Respect free speech, including the right to set up tents
Immediate resignation of Robert J. Birgeneau, George Breslauer, Harry Le Grande, and UCPD Chief Mitch Celaya. Democratic election of their replacements by students, faculty, and staff.
No use of force on protests on campus.
Charge the police responsible for brutalizing protesters.
Amnesty for all protesters. No criminal or Code of Conduct charges.
Make UC Berkeley a sanctuary campus for all undocumented people. Pass the UC-wide Dream Act.
Equal benefits and retirement security for all unionized UC workers.
Statewide Demands
Reverse the fee hikes, cuts, and layoffs to at least their 2009 levels.
Refund public education and public services: Tax the banks and billionaires. Repeal Prop 13.
Full implementation of affirmative action. Overturn Prop. 209.
Nationwide Demands
Stop the privatization of public education.
Bail out schools and public services.
Redirect military funding to education.
Immediate forgiveness of all student debt.
Repeal "Race to the Top".
Stop the attacks on teachers' unions
See BAMN's REPORT from the Occupy Cal November 9 Day of Action
SCHEDULE FOR TUESDAY, NOVEMBER 15 STRIKE:
8AM-5PM OPEN UNIVERSITY
All day open university activities (teach-outs, workshops, public readings, installations, etc.) at Sproul Plaza and surrounding areas. List your event at http://bit.ly/occupycal
NOON CONVERGENCE
Mass convergence at Psroul Hall and formal inauguration of day-long open university.
NOON-2PM TEACH-OUTS on Sproul Plaza
2PM RALLY
Against police violence and other, related forms of violence, including dispossession, privatization, and debt.
2:30PM MARCH
Starting at Sproul to Berkeley High and City College
5PM MASS GENERAL ASSEMBLY ON SPROUL
Occupy Cal requests that all classes be cancelled or held at Sproul or surrounding areas.
FOR TEXT ALERTS: Text "follow caloccupation" to 40404
———————
SUBSCRIBE TO BAMN WEBSITE FOR UPDATES. VISIT OCCUPY CAL'S WEBSITE AT http://bit.ly/occupycal
To join the fight for public education, join BAMN!