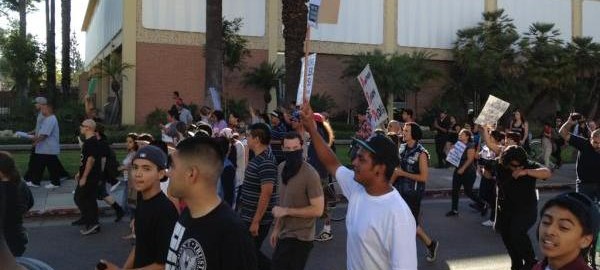 *Justice for Manuel Diaz! *Jail the Killer Cops! *A Badge Is Not a License to Kill!
*Stop Racist Police Brutality against Anaheim's Latina/o Black and Immigrant Communities!
*Speaking the Plain Truth Against Racism is NOT a Crime. Self Defense is No Offense! End the New Jim Crow!
*Our Mothers, Younger Brothers and Sisters and Communities' Demands for Justice and the Truth Must Never Again Be Answered with Rubber Bullets and Police Dogs.  Get Rid of the Dogs and Rubber Bullets Now!
*Stop the Police Cover Up. We Can Not Rely on the Attorney General or Any Other Government Official to Win Justice for Manuel Diaz or to Jail the Killer Cops!
*We Must Organize an Independent Public Tribunal to Investigate Manuel's Murder and Get the Truth Out about Racism and Police Brutality in Anaheim!
*Fire Anaheim Police Chief John Welter!
*Build the New Mass, Integrated, Independent, Youth-Led Civil Rights Movement!
Join BAMN! The Latina/o, Black, Immigrant and Oppressed Communities of All Races Have the Power to Restore Hope and Win Dignity, Equality, Respect and Prosperity for All.
Download the flyer (Word   PDF)
On Saturday evening, after Manuel Diaz had already been gunned down in cold blood, the Anaheim police proceeded to attack a crowd of mostly young women and their children simply for speaking out and standing up to the police for killing Manuel.  Speaking the truth about racism cannot result in being assaulted and brutalized by the police. Watch the videos – there was no "riot" against the police on Saturday evening.  And does anyone really believe the police dog escaped from the police car "accidentally"?
The cops attacked that crowd with rubber bullets and dogs because they wanted to make clear to everyone that fighting back against racism in Anaheim is a crime.  Like the Civil Rights Movement lead by Dr Martin Luther King, our community must stand up and organize mass militant action to stop the dogs, rubber bullets and police executions of unarmed youth from ever occurring again.  We deserve dignity, equality and respect.  We do not need to be treated as inferior second class citizens to have some meager economic stability and hope for our children's future.
Only the independent, mass mobilization of Anaheim's and Orange County's Latina/o, black and progressive anti-racist communities can possibly win justice for Manuel Diaz.  The community's response to Manuel's murder has already set this struggle apart from all the other police shootings that have happened in Anaheim this year.  If we are to win real justice for Manuel and get these cops sent to jail then we must keep marching, protesting, chanting and fighting.
We can't rely on the politicians or the District Attorney to do a real investigation of the shooting.  We must not listen to those that tell us to "cool off", "wait until the DAs investigation is done" or "have faith in the system to find out the truth" – only by building an independent movement for justice can we ensure that the truth comes out, that the cops are charged with murder and that our communities can be safe from further police violence against us.
For more info, contact BAMN (By Any Means Necessary) at 323.474.8222 – www.BAMN.com