Freedom For Justin Cheong!
Full Citizenship Rights for All Immigrant & Asylum Refugees
Stop All Deportations!
Shut Down All Detention Centers!
Open the Borders!
Shut Down Trump's Racist Vision for America!
American champion of freedom, equality, and democracy Justin Cheong has been locked away in an immigration detention center, or more accurately a modern day concentration camp. This page is dedicated to the struggle to win his freedom. Come here to 
www.bamn.com/freejustin

 for updates. Join BAMN now and help win this fight!
---
Sign the petition online by clicking HERE
Download copies for yourself to circulate at the links below:
English: Freedom for Justin Cheong
Spanish: Freedom for Justin Cheong ESP
Fax completed petitions to Immigration and Customs Enforcements Director for Detroit Rebecca Aducci at
the ICE Detroit Field Office (313) 259-5296
Follow our Facebook Page "Freedom for Justin Cheong" by clicking HERE
---
Petition to Win Freedom for Justin Cheong:
Whereas:
The life of Justin Cheong is the story of an American hero. Justin immigrated to the United States as a high school student, seeking to advance his education. He stayed to advance the principles of freedom, democracy, and equality. Now, Justin Cheong is held captive. He is imprisoned in a facility that holds immigrant detainees—an American concentration camp—and he is fighting for his own freedom and for the freedom of the young men who share his captivity. Behind prison walls, Justin continues his life's work, pursuing the dream of a free and democratic nation in which "all men are created equal." This petition exists so that Justin's brave struggle will not be confined within prison walls. This petition demands freedom for Justin Cheong.
1.  The case of Man Tou Cheong
Justin was born in 1990 in Macau, China, a small coastal territory just west of Hong Kong. His parents named him Man Tou Cheong. As a teenager, Man Tou gained citizenship in the nation of Portugal, and acquired a student visa to attend high school in America. He traveled to Minnesota, where he adopted the name Justin, and led a successful high school student career. His bright mind and obvious talents propelled him to advance to the University of California at Berkeley.
In California, Justin was able to thrive, finding direction and purpose to channel his great abilities. He became a student activist, championing the defense of public education and building a movement to unite people against all forms of bigotry and oppression.
Through his activist work, Justin met Liana Mulholland, whom he befriended and eventually married. Liana's parents, both AFSCME union officials, became Justin's legal U.S. "sponsors" so that Justin could stay and live in America after completing his education. Justin and Liana made a home together in Detroit, Liana's hometown. They have been married for five years.
America is Justin's home. He entered the country legally in 2007, and has remained in the country legally since then. His life is here, the people closest to him are here, and his hopes and dreams are here. His character and good standing are unimpeachable.
But these facts by themselves were not enough to protect Justin's freedom. On Thursday, June 30, federal agents sought out and arrested Justin Cheong. Within hours, they had transported Justin to an immigrant detention facility in Monroe, Michigan, where Justin has been held without bond since that time. Justin has no criminal record and is not suspected of committing any crime—the federal agents held him captive on only a single charge: being born in the wrong country.
2.  Immigration and the new Fugitive Slave Law
It is the most defining political issue of our time. In the United States and around the world, millions of people have relocated across national borders; it is the largest wave of global human migration since World War II. This modern migration has absolutely perplexed the world's most dominant powers—nations have militarized their borders to combat peaceful and unarmed civilians, and politicians now rise or fall on the basis of their appeal either to a progressive internationalism or to xenophobic hatred. This polarized climate imposes new and intensified hardships on the already-embattled migrant populations.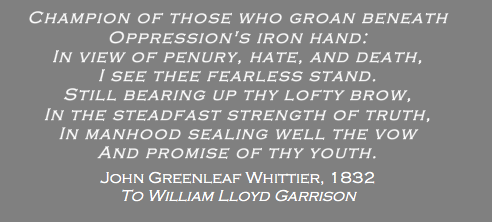 The hardship of Justin Cheong is entirely the product of this anti-immigrant hysteria: government enforced, legally sanctioned hysteria. Justin committed no offense. He pursued what every American presumes to have the right to do—to move to or from any free and democratic nation in the world, in accordance with local rules and customs. He chose as his home a nation whose principles reflect his own—the belief that all human beings have inalienable rights. But Justin Cheong now sits in prison navigating an obscure and arbitrary legal process for immigrants in which human rights—and the human beings themselves—are thoroughly alienable. This process is separated from the rest of American law, operates outside the framework of Constitutional rights, and increasingly moves with the mechanical redundancy of an assembly line towards a predetermined outcome.
America's immigration enforcement system is now the modern version of the Fugitive Slave Law.
Much like the 1850 law designed to further the apprehension of black Americans in the North—whether "fugitives" or not—today's immigration system bears far stronger resemblance to kidnapping and enslavement than it does to any pursuit of justice. Most immigrants are deported to countries in which they would be working for miniscule wages for American mega-corporations, spending their scarce resources to buy American products, but never having the right to enter the very nation whose stupendous wealth they have created by their own toil. The torch of the Statue of Liberty does not shine its welcome inside the walls of America's vast prison system for immigrants.
But there is one torch of freedom you can find there, behind the iron bars: his name is Justin Cheong.
3.  Life in an American concentration camp
In the decaying town of Monroe, Michigan, a specialized prison holds Justin Cheong captive along with dozens of other immigrants. Some of the immigrants, like Justin, came to the United States with student visas to get an education. Many of the immigrants are refugees from Mexico and Central America, displaced from their countries of origin by the poverty and violence that American economic policy has created abroad. All of the immigrants hope to find peace and freedom.
Like Justin, most immigrants there are denied bond, held hostage for months at a time until the sheer oppressiveness of their captivity can compel them to sign papers agreeing to deportation. The standard procedure for denying bond is to designate an immigrant as a "flight risk," which is perhaps the most ironic of all possible legal designations for people who are trying to stay where they are. The internal regime of the prison is  designed to instill the stigma of being unwelcome and the feeling of powerlessness—the prison management works to aggravate racial and ethnic divisions among the inmates, to turn people against each other by enticing detainees to serve as the "good" prisoner who can enforce the regime against all the "bad" prisoners.
Justin's unflinching dignity rises above the twisted social experiment. Justin is the advocate and beacon of hope for his fellow inmates. When Justin started to spend time drawing some fine portraits of the other prisoners, deep interest grew towards this talented young man, and a new sensation filled the air in the facility—there was kindness, and beauty, and friendship. Justin brought those things inside the prison walls. And he also brought his leadership, his fight for freedom, and his unshaken belief that oppressed people can and must stand up for one another as the most powerful means to stand up for themselves. Thanks to Justin's efforts, a number of inmates have obtained legal representation through his own attorneys, and he stands as a devoted representative for hope and courage in a captive population, a proud and glowing torch where people are otherwise expected to be broken and invisible. Even in the darkest of circumstances, Justin shines as a wonderful human being, a champion of the oppressed, and a great American.
Therefore be it resolved:
             We, the undersigned, demand the immediate release of Justin (Man Tou) Cheong from prison. We demand freedom for Justin Cheong, freedom to live in America, freedom from deportation, and freedom to exercise all rights that America's founders declared to be the inalienable birthright of all humanity.
             We, the undersigned, also demand freedom for all the immigrants and refugees who are held in captivity in Monroe, Michigan and in prison camps across the country. We demand that the promise of a free nation be made real for all immigrants: our fellow Americans.
             And we, the undersigned, make the following declaration to Justin and all others in captivity: your blood is our blood, your struggle for freedom is our struggle for freedom. Your very presence makes America the home of the brave—together we will make it the land of the free.

News and Updates in the Fight to Free Justin Cheong
In an attempt to further isolate Justin from his base of support the immigration authorities have transferred him 5 hours to the far North of Detroit in the Upper Peninsula. They did not anticipate that BAMN's protest would follow him there. Other than his lawyers, Justin is only allowed two visitors every week for a total of 20 minutes. Since Justin has been detained he has encouraged many detainees from all over the world to fight their detention by retaining BAMN's attorneys as their legal counsel. While being detained in an immigration detention facility can be grinding on a person's sprits, Justin remains determined to fight for his own freedom as well as the freedom of his fellow detainees. Outside of the detention center BAMN continues to build support for Justin's release.
Actions
BAMN Pickets at Chippewa County Jail, and detention center in St. Sault Marie, Michigan where Justin is being detained.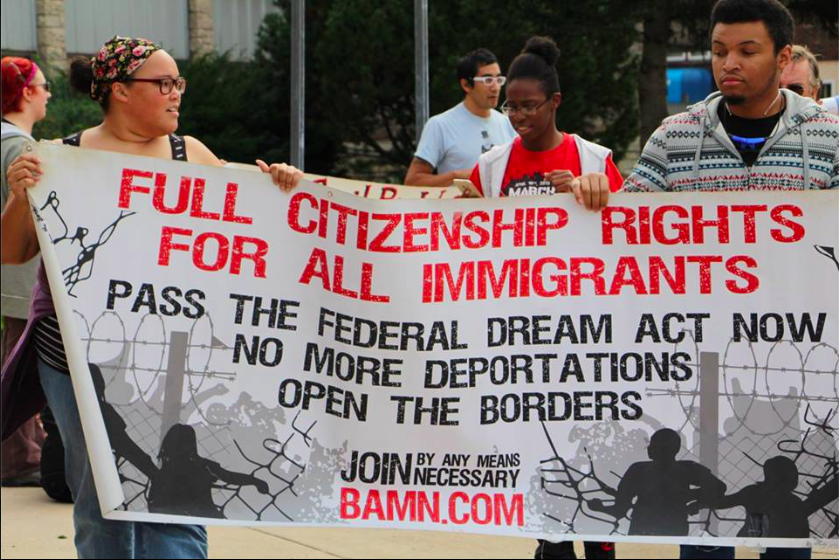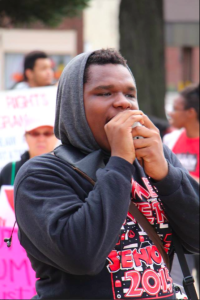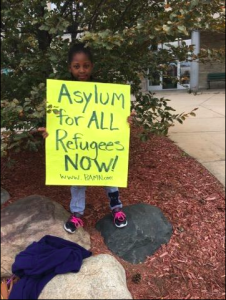 Coalition to Defend Affirmative Action, Integration, Immigrant Rights and Fight for Equality By Any Means Necessary (BAMN)
Contact us:  www.bamn.com/freejustin