IT IS TIME FOR THE IMMIGRANT RIGHTS MOVEMENT TO RETURN TO THE STREETS.
We can fight and win more than what is being offered. On April 10th, we will declare that we will never be satisfied until we have the full equality, dignity, and respect we deserve.

Join the BAMN contingent on April 10th:
10:00AM – 12:00PM – Pre-meeting, Discussion of how to advance movement to WIN our demands! At Friends Meeting House 2111 Florida Ave NW (near Dupont Circle)

1:00PM: March from Friends Mtg. House to Immigration Equality Action Fund Office (

1325 Massachusetts Avenue NW, Suite 250, Washington, DC 20005) 

where we will join other contingents to March to the Capitol

1:30PM: March from IEAF to the Capitol

3:30PM: Rally begins on West Lawn of Capitol

6:00PM: March

7:00PM: Gather at corner of 1st SW & Independence Ave. for post meeting

8:30PM: Buses depart
OUR DEMANDS
REPLACE PARTIAL PROBATIONARY STATUS WITH FULL CITIZENSHIP RIGHTS for all people who live here, go to school here, work here, and otherwise contribute to this society. Latina/o, black, Asian, Arab, Native American, white, immigrants with and without papers—we are ALL Americans.
OPEN THE BORDERS—give people the same rights that NAFTA provides to the corporations for unrestricted passage across borders.
NO RESTRICTIONS to gaining citizenship should be placed on young people brought by their parents.
NO FINES for the millions of people without papers who are here now. No more deportations.
CLEAR, DEFINITE TIMELINES should be set for people to gain citizenship—not indefinite probation.
PASS THE DREAM ACT NOW!
MARCH ON WASHINGTON NEWS
[widgets_on_pages id="April 10 left column"]
BAMN Chair Shanta Driver speaks to DREAM Act movement (2008)
"Our Rising Strength" – BAMN is leading the new youth-led civil rights movement (2007)
Yearning to Breathe Free: BAMN Declaration on Immigrant Rights

Written to leaders of the immigrant rights movement, "Yearning to Breathe Free: BAMN Declaration on Immigrant Rights" is BAMN's perspective on immigrant rights, the central place it has in the struggle for equality and democracy in America, and how it can win.
One excerpt from "Yearning to Breathe Free":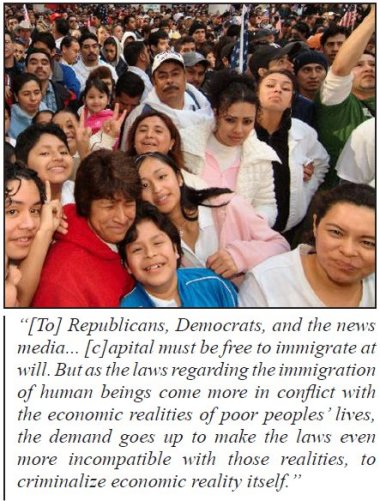 [widgets_on_pages id="April 10 right column"]