Why YOU should vote DAAP for ASUC: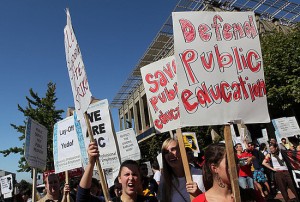 Visit the DAAP website at goDAAP.org
We are the voice of the new movement. We are bold and do not fear confrontation; and we are anti-racist and pro-immigrant rights. We pledge to fight to keep our university a public institution and to defend the California Master Plan from further attacks and erosion. To achieve these ends, we must stop any new fee hikes, reverse the tuition increase and education budget cuts, resist the ongoing privatization of our university, and immediately double underrepresented minority enrollment.
Our name makes clear our commitment to restore affirmative action. There is no way to build a movement powerful enough to defeat the forces for privatization who envision UC-Berkeley as an increasingly elite and rich-kid campus, unless we make clear to California's Latina/o, immigrant and black communities that when we say we defend public education, we mean access for ALL Californians to the UC's. In a state where the majority of K-12 public school students are now Latina/o and black, restoring affirmative action is the only way to defend public education in deeds as well as words.
We believe that students are at this moment the most powerful force in the fight to defend public education. We pledge that, if elected, we will place all our energy into building the new movement. We aim to prove to all those who look to our campus for inspiration that there is a force in this society that enjoys leading actions and is not scared of winning. We have proven ourselves in action—leading struggles at Cal, at our community colleges, in our high schools, and in the community that have won important but modest victories. We know that as the leaders of the ASUC, using the methods we learned in struggle, we can win larger and more decisive victories.
From our experiences, we've learned that for our movement to win, we must cast aside the identity politics that characterize California and UCB liberal/radical politics. We reject the view that we are a collection of rigidly separate and distinct groups—sometimes united but always mistrustful—competitors for a shrinking number of jobs, university seats and social and political rights. DAAP is committed to building a single integrated leadership because that is the only way to gain the power needed to win. We are people who do not ignore the problems of racism, sexism and other prejudices that arise within our own ranks. We are committed to challenging each other and to accept others who challenge us to change and become more conscious. Our unity and commitment to each other and to integration and equality was forged in action. In a state and on a campus where racial and ethnic divides are assumed to be unassailable, we believe real unity is possible and we are certain that without it, we lose and our movement fails.
Our movement must have dedicated leaders who are politically independent, reject careerism, and love to struggle—people who relish those moments when those in power must make concessions to us because they see and fear our power. We want UC Berkeley to have an ASUC that does not fear the anger and power of students and youth and the communities that surround us—an ASUC that's determined to win.
Finally, we are leaders who are committed to just saying the plain truth. We reject using academic jargon or phony democratism to alienate ourselves from the people we need to organize to win. We are leaders who believe that action speaks louder than words. We are not traditional ASUC candidates. There are already too many candidates who are running because they regard it as a as a good "career move." Too many want the title without ever actually accepting the responsibility for organizing student power on an independent basis to win the policies most important to students on this campus. DAAP is ready to lead and fighting to win the fight to lower tuition, reverse the fee hikes, restore affirmative action, win a federal and a UC-wide Dream Act and restore academic freedom and the freedom for students to protest.
In November 2011 we were on the front lines of the campus protests, marches, and occupations, and we are proud that students transformed Berkeley and made it the center of the national student movement. We are determined to see this struggle through because our movement has unfinished business we need to take care of. The demands of our movement from this fall are not just beautiful platitudes—they are demands we can and must win to make our campus and our nation recommitted to achieving equality, democracy, justice, freedom and human dignity. At a moment in history when every progressive gain of the last sixty years is under attack, we need our campus to be a beacon of hope again. If elected, we pledge to make it just that.
– Ronald Cruz, former DAAP presidential candidate for ASUC and Attorney and Organizer with BAMN*
Visit the DAAP website at goDAAP.org
*Title for identification purposes only