Tuesday, Oct. 11
at 7:00PM
UC-Berkeley's Wurster Hall, Room 102 (near Bancroft + College)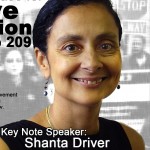 Shanta Driver, lead attorney in the legal challenge against Proposition 209 and the national chair of BAMN, will speak on the federal lawsuit BAMN has filed against 209. She will address the historical significance of affirmative action, the victory her organization won overturning Michigan's version of 209 this summer, and building the mass, broad, student-led statewide movement that is needed to restore affirmative action and increase underrepresented minority student enrollment in UC now.
With one of BAMN's lawsuits destined to go to the U.S. Supreme Court in the next period of time, the case for Affirmative Action today will change the direction of the history of this nation tomorrow.
Co-Sponsored by:
BAMN, UCB African American Studies Department, UCB Gender & Women's Studies Department, Center for Race and Gender (CRG)
Stay updated on BAMN's work on Affirmative Action: