If you were denied admission to UC-Berkeley or UCLA, send in your appeal application before the deadline and contact BAMN — we will help you fight for your admission.
Watch the KTVU Channel 2 story: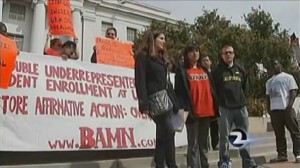 BAMN Press Release 4/8/2012:
Latina Berkeley High Senior Aillen Zazueta-Bella Fights for Her Right and Other Underrepresented Minority Students' Right to Be Admitted to UC Berkeley
Family, Fellow Berkeley High School Students, UC Berkeley Students, and Community Members Unite to Stop the Resegregation of Higher Education
PRESS CONFERENCE TODAY, Sunday April 8 at 3:00 pm
Front Steps of Sproul Hall (Bancroft and Telegraph, UC Berkeley)
Berkeley High School senior Aillen Zazueta-Bella is fighting for her right to be admitted to UC Berkeley. She will be holding a press conference today, two days after UC Berkeley, high school,and community BAMN activists occupied the Registrar's Office of Sproul Hall to demand that UC Berkeley double the number of underrepresented minority students enrolled for UC Berkeley's Fall 2012 freshman class.
Ms. Zazueta-Bella has a 3.85 unweighted GPA (4.3 weighted)and graduated from the top 9% of her class at Berkeley High School. She grew up in Berkeley her whole life. The daughter of a retired postal worker who immigrated from Mexico and an educator who immigrated from Argentina, Aillen was often the only Latina student in the numerous AP classes that she took at Berkeley High. "I've always wanted to go to UC Berkeley. I fervently believe in public education. I believe that our public university system should provide a pathway for opportunity for underrepresented minority communities. I am appealing my application to UC Berkeley not only for myself, but for other Latina and Latino students and minority students who deserve the equal opportunity to go to the best public university in the nation."
"UC Berkeley has to change its admissions policy and double Latina/o and black student enrollment for next year. Aillen Zazueta-Bella and other strong and capable Latina and black students are not only qualified to come to UC Berkeley, Aillen and students like her are the hope and pride of their communities," said Yvette Felarca, National BAMN Organizer.
When BAMN spoke to Vice Chancellor of Equity and Inclusion Gibor Basri during their occupation on Friday, Mr. Basri confirmed that, so far, UC Berkeley admissions for fall 2012 freshman class has no real increase in black and Latina/o student enrollment from last year. In response to this prospect, Matt Williams, UC Berkeley senior, BAMN organizer, and presidential candidate for ASUC elections with the Defend Affirmative Action Party (DAAP)said, "It's simply unacceptable for UC Berkeley to segregate out the state's majority minority communities. We just occupied Sproul Hall, and we'll do it again to fight for Aillen and open up this university to all the state's students."
<>