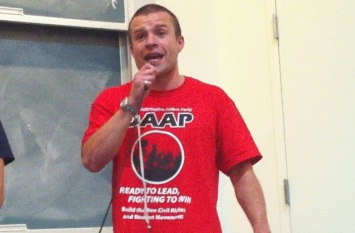 MATT WILLIAMS
for ASUC President #115 and Senate #142
"I've been to jail twice around this fight for public education, and next time I go I want it to be as ASUC president." – Matt Williams
MATT WILLIAMS, Defend Affirmative Action Party (DAAP) candidate for UC-Berkeley's ASUC president, won the debate hosted by the campus student newspaper, the Daily Californian. Watch below.
"I have no conflict of interest. I do not need letters of recommendation for grad school and I don't care about resumes. I want to be the inspiration and show that you've got power." – Matt Williams
Matt is ready to lead and fighting to win. He led and was a spokesperson at the April 6 occupation at UC-Berkeley's Registrar's Office in Sproul Hall to double underrepresented minority enrollment and drop the charges on campus protesters. He also helped lead the sit-in at the Oakland School Board March 28 to stop school closings.
ACT NOW to help defend affirmative action and public education. Vote for someone who has proven himself a leader in words and deeds: give MATT WILLIAMS your FIRST-PLACE votes for ASUC president and senate April 10-12 at election.asuc.org.
Help the campaign: visit VOTEDAAP.ORG
– Ronald Cruz, BAMN* organizer
*For identification purposes only
FROM MATT WILLIAMS:
Candidate for ASUC President (#115) and Senate (#142)
It is clear to me that public education is the vital organ of a healthy society. I refuse to believe or accept that there isn't money for education. We came up with trillions to bail out and clean up the mess of the 1% on Wall Street, billions to spend on wars to further their agenda, sending my own flesh and blood and no doubt some of yours into harm's way and to bring harm, and billions more locking up marginalized communities of color.
Standing for education is absolutely vital to the future of our state, nation and, if you think about it, the world.
DAAP recognizes that to restore the right of an education for ALL, we need policies like Affirmative Action, and to continue to build a student-led, integrated, mass movement to win.
If history has taught us anything, it is that direct mass action is the only way to win a social movement struggle:
Consider the Civil Rights Movement's marches, sit-ins and boycotts, Gandhi's Salt March in India, the Million Man March, and the 2006 Latina/o marches that led lately to the California Dream Act.
Our demonstrations beat the 81% fee hike (this is the first year in several without a hike).
When the Administration attempted to strip us of our right to FREE SPEECH through the use of police brutality, we withstood it and removed the Chancellor.
They tried to cut our Anthropology library hours in half, we took those back too.
We got the stay-away orders dropped.
In all these examples of direct action, students were the core of the movement.
What we need now is LEADERSHIP!
Why should you have confidence in me to lead? While most candidates will support our platform, I will fight for it, and there is a huge difference. I have a history of action with BAMN around this fight, if you read the Daily Cal or watch the news, you know we've been aggressively fighting for education here, as well as to keep K-12 schools open in Oakland.
I'm committed. I've been to jail twice in the last few weeks around this fight, and the next time I go, I'd like it to be as ASUC President.
I'm scheduled to graduate in July, but am prepared to put everything on hold and dedicate a year of my life to the cause of restoring public education for ALL.
Lastly, I have no conflict of interest. I don't care about a resume, and do not seek letters of recommendation for grad school, as I will not be attending. I am only accountable to the students and this movement.
I'm as serious as a heart attack about this. I believe in you. Let's make history.
I need your FIRST PLACE VOTES for President #115 and Senate #142. Vote at election.asuc.org April 10-12.