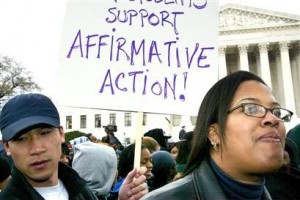 The situation in the University of California is at a crisis point, and everything must be done to increase underrepresented minority student enrollment now. Governor Jerry Brown should have signed SB 185, which urged public universities to consider race and gender in admissions to increase underrepresented minority student enrollment.
However, Governor Brown's veto message also refers to the importance of BAMN's pending lawsuit to overturn Proposition 209, the state ban on affirmative action. This is a court case that the new student-led civil rights and immigrant rights movement can win if we mobilize mass action across the state.
Campaign to overturn Proposition 209
BAMN invites all the people and organizations who fought so hard to support SB 185, to support the campaign to overturn Proposition 209. In July of this year, BAMN won a decision to overturn Proposal 2, Michigan's version of Proposition 209, in the Sixth Circuit Appeals Court. We intend to win a similar victory for our lawsuit against against Prop 209 here in California–that will require mobilizing the independent power of the movement again.
One or both of these cases will eventually be heard before the U.S. Supreme Court and will determine whether the doors to higher education may be closed to the nation's growing Latina/o, black, and other minority communities. These cases will become our generation's Brown v. Board of Education, our nation's watershed for racial progress.
As the passage of the California Dream Act shows, the Latina/o and other minority communities of California have tremendous social power when we take independent, direct action. Now that we won the DREAM Act, we need to fight for more Latina/o, black, Native American, and other underrepresented minority students to get into the UC's who are otherwise being excluded by Prop 209. We now have a huge opportunity to correct that historic wrong.
How to fight Prop 209
We need to use the next six months to mobilize student action to impact the outcome of the Prop 209 case before the Ninth Circuit Court of Appeals hearing.
BAMN, the UC-Berkeley African American Studies Department, Gender & Women's Studies Department, and the Center for Race and Gender are holding a forum and mass meeting at 7PM in UC-Berkeley's Wurster Hall, Room 102 tonight with Shanta Driver, BAMN's national chair and lead attorney in the 209 challenge. We invite everyone to join us.
Stay updated on BAMN's work on Affirmative Action: